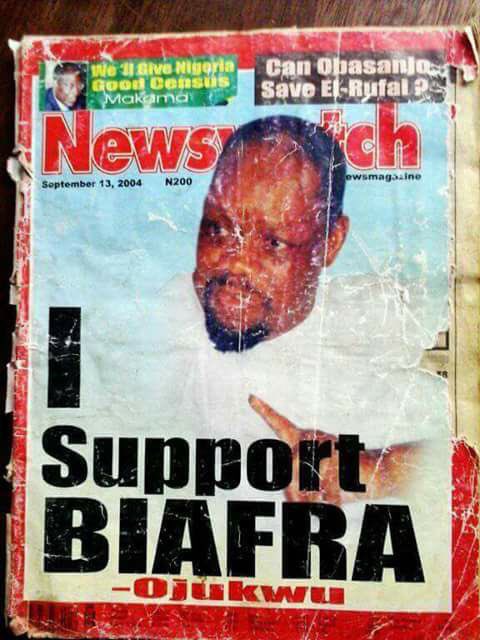 In contrast to what President Buhari said in his life broadcast message to Nigerians upon return from his 106 days medical leave abroad about his discussion with Ikemba Nnewi, Chief Emeka Odimegwu Ojukwu, the image about publishes in 2004 tells the real truth.
President Buhari in his military style efforts to derail the agitation for Biafra, Monday made reference to the late Biafran leader, Emeka Ojukwu, saying both of them agreed on the indivisibility of Nigeria.
Mr. Ojukwu led a breakaway Biafran nation into a civil war with the Nigerian government, between 1967 and 1970. Although the secession failed and Mr. Ojukwu would later contest to be president of Nigeria, there have been renewed agitations for a Biafran nation, particularly led by pan-Igbo groups like IPOB and MASSOB.
Here below is what Buhari wants Ndi Igbo and Nigerians to believe;
"In 2003 after I joined partisan politics, the late Chief Emeka Ojukwu came and stayed as my guest in my hometown Daura. Over two days we discussed in great depth till late into the night and
analysed
the problems of Nigeria. We both came to the conclusion that the country must remain one and united.
"Nigeria's unity is settled and not negotiable. We shall not allow irresponsible elements to start trouble and when things get bad they run away and saddle others with the responsibility of bringing back order, if necessary with their blood."