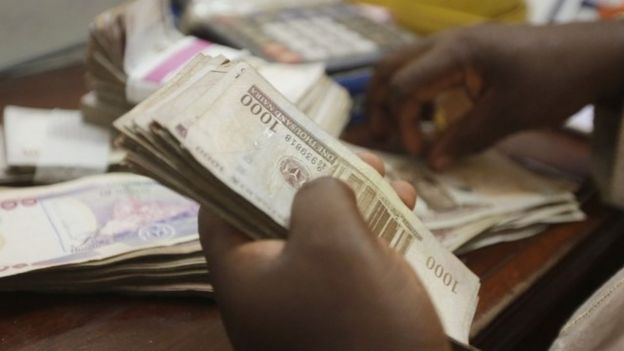 Image Credit; bbc.co.uk
Hit by the current economic recession in the country, most money deposit banks and insurance firms have slashed their workers' salaries by between 20 and 50 per cent.
Investigations by Saturday PUNCH revealed that Diamond Bank Plc, Heritage Bank Plc, Zenith Bank Plc, First Bank Plc and Wema Bank Plc have reduced their workers' salaries as of August 31, 2016. This has also been confirmed by management sources and workers in the affected banks.
While Diamond Bank was said to have slashed salaries by 30 per cent, Heritage by 30 per cent, First Bank and Wema Bank workers' salaries were slashed by 20 per cent each.
It was learnt that the banks tied the decision to cut salaries to workers' ability to meet deposit targets, which have become unrealistically high in recent time. Hence, workers who failed to meet their targets had their salaries slashed.
Investigations also revealed that some insurance companies have extended the targets of premium generation to their employees. Before, the marketing departments of the underwriting firms and insurance agents were responsible for generating premium for the companies.
Due to the economic crisis in the country, many insurance firms increased the targets for their marketing departments' workers with threats of not paying them salaries if they failed to meet it (targets). As such, insurance workers who failed to meet their premium targets, according to industry sources, also had their salaries slashed. Read More Here
@ Punchng.com